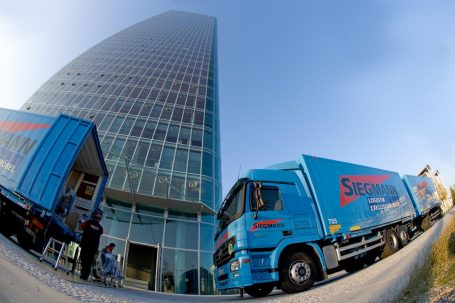 Company, project, and private relocations. Convenient and carefree relocation starts with professional planning, which is what our team promises you. A detailed plan of the various activities and the ability to integrate special requirements flexibly and skilfully are our key to guaranteeing you a stress-free and perfect move.
We offer this service through the following corporations:
Spedition Siegmann GmbH & Co KG
Christoph-Siegmann-Str. 7
D-73441 Bopfingen
Telephone: +49 (0) 73 62 - 84-0
Telefax: +49 (0) 73 62 - 40 24
E-Mail: info@siegmann.de
Anton Röhr Sp. z o. o.
Transport Międzynarodowy Poznań
ul. Gnieźnieńska 69
PL-61-015 Poznań
Telephone: +48 (0) 61 - 8 72 50 02
Telefax: +48 (0) 61 - 8 72 50 01
E-Mail: biuro@anton-roehr.pl